What Is There to Know About Flat Feet
Monday, 15 July 2019 00:00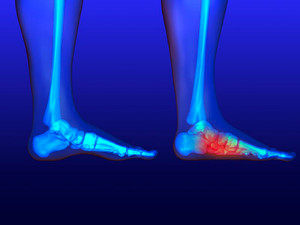 People with flat feet, also known as fallen arches, have either no arch in their foot or just one that is very low. This can cause discomfort, lead to pain elsewhere in the body, as well as be an indicator to an underlying disorder. The majority of people that will experience flat feet will not show any signs of it. Some causes of flat feet include arthritis, foot or ankle injuries, weak arches and genetic factors, as it is possible for flat feet to pass from parents to their children. There are different treatments for flat feet, such as wearing an ankle brace to reduce inflammation, using fitted insoles and orthotics, or obtaining custom-designed arch supports to relieve pressure on the arch. It is advised that people who have recently developed flat feet, have pain in the feet and ankles, or have symptoms that don't improve with supported shoes, see a podiatrist as soon as possible.
Flatfoot is a condition many people suffer from. If you have flat feet, contact Kellvan Cheng, DPM from Elite Foot & Ankle. Our doctor will treat your foot and ankle needs.
What Are Flat Feet?
Flatfoot is a condition in which the arch of the foot is depressed and the sole of the foot is almost completely in contact with the ground. About 20-30% of the population generally has flat feet because their arches never formed during growth.
Conditions & Problems:
Having flat feet makes it difficult to run or walk because of the stress placed on the ankles.
Alignment – The general alignment of your legs can be disrupted, because the ankles move inward which can cause major discomfort.
Knees – If you have complications with your knees, flat feet can be a contributor to arthritis in that area.  
Symptoms
Pain around the heel or arch area
Trouble standing on the tip toe
Swelling around the inside of the ankle
Flat look to one or both feet
Having your shoes feel uneven when worn
Treatment
If you are experiencing pain and stress on the foot you may weaken the posterior tibial tendon, which runs around the inside of the ankle. 
If you have any questions please feel free to contact our office located in Carrollton, TX . We offer the newest diagnostic and treatment technologies for all your foot and ankle needs.
Read more about Flatfoot