Sports Injuries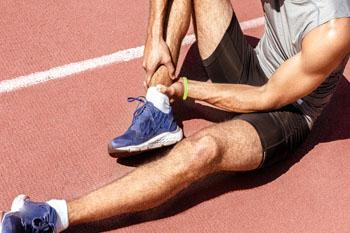 Foot and ankle injuries are often suffered by athletes due to the various physical activities they perform in sports such as running, side to side cutting, and from direct trauma. Athletes should be aware of the following injury risks while playing sports:
Inversion ankle sprains damage ankle ligaments. Sprains may cause tendon, joint, bone injuries as well. Fractures may be associated with severe ankle sprains.
Foot and ankle fractures for an athlete is devastating and heartbreaking. These traumatic injuries sideline the athlete for a prolonged period of time. Surgery to reduce and stabilize the fracture is usually required.
Contusions and bone bruises are common in full contact sports.
Overuse syndromes excessive training may result in muscle soreness, heel pain (plantar fasciitis), Achilles tendon problems, sesamoiditis, stress fractures, posterior tibial tendon dysfunction (PTTD), joint synovitis, and enthesopathy. Children may develop pain at the growth plate within bone called apophysitis.
The foot and ankle surgeon is able to treat sports injuries with medical and orthopedic management, therapy modalities, and or surgery.