Neuroma (Morton's)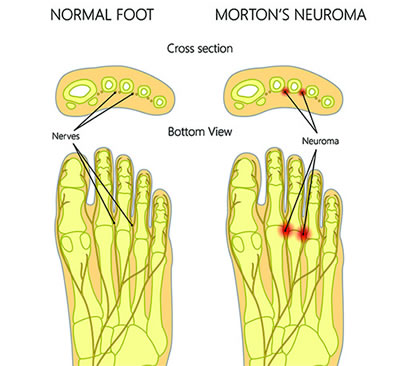 A neuroma is thickening of nerve tissue. In the foot, neuroma that forms between the third and fourth toes is called a Morton's neuroma. Thickening of the nerve is typically caused by compression and irritation of the nerve that cause enlargement and possibly nerve damage.
Neuromas can be caused by anything that causes compression or irritation of the nerve. A common cause is wearing shoes with tapered toe boxes or high heels that force the toes into the toe boxes. Physical activities that involve repeated pressures to the ball of the foot may lead to developing neuromas. Those with foot deformities such as bunions, hammertoes, or flatfeet are more likely to develop neuromas.
Symptoms of Morton's neuroma include tingling, burning, numbness, or achy pain. There is also the feeling that something is inside the ball of the foot, something is in one's shoe, or the sock is bunched up. Symptoms typically begin gradually and can even go away temporarily by removing one's shoes or massaging the foot. An increase in the intensity of symptoms correlates with the increasing growth of the neuroma.
Treatment for mild to moderate cases include padding, icing, orthotics, activity modification, shoe modification, medications, and or injection therapy. Patients who have not responded successfully to conservative or palliative treatments may require surgery to provide relief around the nerve or to remove the nerve altogether.