Ankle Sprains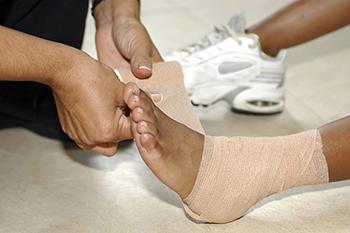 Ankle sprains are the "giving way" of the lateral aspect of the ankle from just standing, walking, running, or any physical activities. Chronic spraining results in instability of the ankle which makes repetitive spraining even more likely. The symptoms are persistent pain and swelling. Spraining the ankle results in stretching or tearing of the ligaments. This affects the stability of the ankle joint. Therefore, repeated ankle sprains often cause and perpetuate chronic ankle instability.
Instability of the ankle can be evaluated and determined for proper treatment. The foot and ankle surgeon will ask about any previous sprain, injury, and instability. Areas of tenderness and swelling will be evaluated. Imaging studies, in addition to X-Rays such as MRI and CT, may be ordered to further evaluate for any ligament and ankle joint pathology.
Treatments for ankle instability and ankle sprains involve physical therapy, bracing, taking anti-inflammatory medications, and surgery. Surgery involves repair and or reconstruction of the damaged ligament(s) of the lateral ankle. Surgery may also require other soft tissue and or bone procedures to address any structural predisposition for ankle sprains.